Time For Glennon To Raise His Trade Value
August 14th, 2015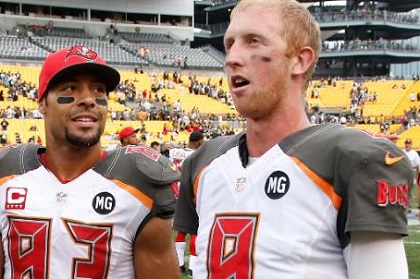 Mike Glennon has not had a strong training camp. There, Joe put it on the table.
At no time did Glennon play like a guy who should be competing for a starting job.
Sorry, Mike Glennon Mob. Joe doesn't recall talking to any fans, or local and national media, who seemed to think Glennon was acting or playing like a starter this month.
And while many think Joe is anti-Glennon, that's inaccurate. In fact, Joe is pulling hard for Glennon to have a strong preseason so the Bucs find an attractive trade market for him.
As Joe has written, Glennon is a luxury the Bucs don't need. He's a strong backup quarterback that's sure to bolt in free agency after the 2016 season. So the Bucs might as well dump him now while his value is high. If there's a quarterback-desperate team out there that desires Glennon and would cough up a third-round and a fourth-round pick, then Joe thinks the Bucs should pull the trigger instantly.
The best way to make that happen is for Glennon to rise up this preseason and look like a starter. He'll have familiar targets tomorrow night in Bobby Rainey, Louis Murphy, Luke Stocker and Brandon Myers, in addition to some speedy rookie receivers, like Kenny Bell, who seem to get open often. If Glennon gets a modicum of blocking, then he should be able to shine against second-rate defenders.
Heck, Jimmy Clausen looked like a heck of a quarterback last night. Glennon has the experience and talent to do the same as preseason kicks off tomorrow.
Joe believes Glennon's future is very much in his hands through the preseason. Being dominant is his only chance to force himself out of a non-competitive situation on the Bucs roster. Joe's not sure Glennon has it in him, however, he may just be a career backup. And there's nothing wrong with that.