Tim Wright Traded For Backup Kicker
August 31st, 2015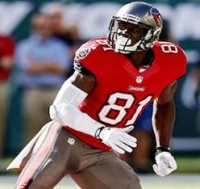 Tim Wright's second tenure with the Buccaneers didn't last long.
The Bucs shipped him and his Super Bowl off to a playoff team this morning.
In exchange for Wright, the Detroit Lions sent the Bucs backup kicker Kyle Brindza, per NFL Network.
The rookie Brindza has a hell of a story that included multiple childhood surgeries on his kicking foot, per the Detroit Free Press.
The Notre Dame grad is a kickoff specialist, in addition to booting field goals and extra points. In a preseason game against the Jets this year, Brindza had four kickoffs and none were returned.
Connor Barth and Patrick Murray both missed sub-50-yard field goals against the Browns on Saturday. And the Bucs appear to be scrambling for a consistent foot.
The moral of Tim Wright's latest story seems to be, "Don't drop a perfectly thrown 3rd-and-long throw from Jameis Winston," which is what happened against the Bengals on Monday night.
Joe wishes Wright well. He's a tough guy to ditch after 80 catches and 11 touchdowns in his first two NFL seasons.