The Henry Melton X-File Grows
August 25th, 2015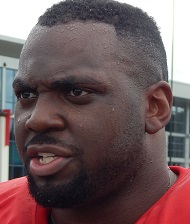 Remember when Lovie Smith directly instructed Joe not to read much into Henry Melton practicing at defensive end because, per Lovie, Melton only practiced there because somebody probably needed "a blow?"
Yeah, well, Joe never bought that. And Melton started at left defensive end last night.
The Melton X-file is officially larger.
That's where Melton played for a chunk of last season in Dallas. The former Pro Bowl defensive tackle had five sacks in the first nine games before fizzling out, while his surgically repaired knee didn't seem up to a full season.
Last night, Melton collapsed the pocket on Andy Dalton leading to the first sack of the Bengals quarterback. Here's the video. George Johnson got the sack officially, but he was on a delayed blitz and was cleaning up what Melton and Gerald McCoy served up off the edges. Melton bull rushed solid veteran Eric Winston and got him off balance.
Melton rotated with Larry English at the position. Melton didn't look like a superstar, but he played quite well.
Just prior to last night's game, former Bucs tight end and current radio color analyst Dave Moore shared his concerns for the Bucs getting abused in the running game this season because their defensive ends, Jacquies Smith and George Johnson, are lightweights under 265 pounds. Melton is listed at 290, and Joe would be stunned if he weighs under 280.
Joe wouldn't bet against Melton starting at DE on opening day.