All About Jameis
August 25th, 2015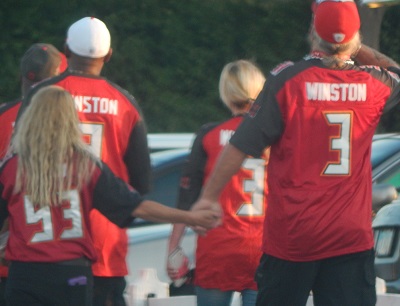 Last night's Bucs game meant nothing.
The game didn't count. It was phony football behind a real-football façade.
But what was real is the exploding impact of Jameis Winston.
Joe spent pregame time talking to fans in the parking lot of the Stadium on Dale Mabry Highway. It was all Jameis, Jameis, Jameis, "America's Quarterback."
Jameis jerseys were everywhere. Joe snapped the photo above of folks waking down Himes Avenue. Jameis hope and Jameis love touch a diverse group.
Optimism is breathing again from Lakeland to Largo. The 21-year-old franchise quarterback prospect has inspired so many.
Collectively, the Bucs played great against the Bengals. They forced all kinds of turnovers, had a safety, ran the ball, performed on special teams and more. But none of it would have mattered much without a solid performance by Jameis.
That's what this season is about. Just ask the fans.