Six Out Versus Browns, Including Jacquies Smith
August 29th, 2015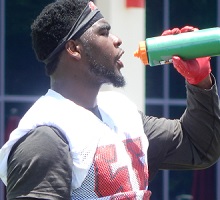 So how bad is Jacquies Smith's injury?
Joe sure hopes it's nothing too serious. The Bucs have said very little.
Smith, the team leader in sacks last year (6.5) was rather invisible against the Vikings and didn't play Monday against the Bengals. He won't play tonight against the Browns, the Bucs just announced.
Huge opportunity here for Henry Melton to cement himself as the starting left end. Larry English and T.J. Fatinikun should get all kinds of opportunities to impress.
Here are the other Bucs out tonight:
WR Mike Evans, CB Leonard Johnson, S Major Wright, DE Jacquies Smith, OL Josh Allen, T Kevin Pamphile.
Wright's absence is timed smoothly with the debut of safety Chris Conte, a major offseason acquisition, if you ask Lovie Smith.