Power Structure Muted Logan Mankins
August 10th, 2015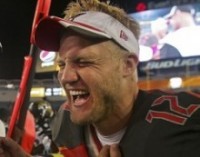 Here's a big ol' shining light on the mess of the 2014 Bucs. And it might explain why Josh McCown got excommunicated so quickly after the season ended.
In a chat with veteran Tampa Tribune beat writer Woody Cummings, barbecue-yearning Logan Mankins revealed that he didn't like what he saw in Tampa when he arrived from New England nearly a year ago, but he didn't feel right about taking a sledgehammer to the hot mess that was the Bucs' offense.
Here's an excerpt:
This year will be better, he says, for Mankins and the Bucs. Mankins is sure of it because he says he's taken control of a locker room and a positon group that all too often last year didn't measure up to the standards he'd become accustomed to in New England.

"By the time I got here last year, the leaders were all pretty much established, and I didn't want to step on anybody's toes, even though I didn't agree with some of the things that were happening,'' Mankins said. "So I was more of a leader by example last year. But I wasn't enough of a leader vocally.

"This year, after being here for the whole offseason and being an established guy, I've got the tempo the way I want it when we practice, the way it should be when we condition, the way it should be in the weight room. And everyone is buying in. No one's trying to drag us down. It's just a different level.''
Feel free to read the whole Tribune piece.
So Mankins didn't want to "step on anybody's toes" to fix the culture of the offense? Fair enough. He did get here just before opening day and had a lot on his plate. (However, Joe still doesn't get the barbecue excuse.) But based on these words, Joe believes Mankins did not respect the leadership of Josh McCown and the way McCown was directing the troops.
This is very intriguing, considering Lovie Smith handpicked McCown for three reasons: the trust the two shared, his leadership ability, and his playing ability. Obviously, McCown's leadership was abysmal, only slightly worse than his playing ability, which thinking Bucs fans knew was subpar before he arrived.
Kudos to Lovie for embracing Mankins and a new approach to the offense and leadership. It can only get better from here.