Marpet Madness Takes Over
August 6th, 2015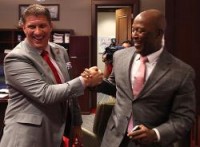 Joe has pounded his head against walls repeatedly because the Bucs drafted a Division III guard in the second round and planned to start him, and then buried him with second- and third-teamers during training camp and OTAs.
Well, today was Marpet's coming out party — in pads, with the first team.
Joe video taped nearly all the first team work in today's practice and watched each play and studied Marpet. Man, the kid had a good day against Gerald McCoy, Henry Melton and Clinton McDonald.
Marpet isn't perfect by any means, but he's got the strength and the physicality, and he looks nothing like Oniel Cousins.
"Overall, he definitely has what it takes to be a starting guard in the league," Gerald McCoy said of Marpet after practice.
An energized Marpet said it's "huge for me" knowing that he can "get" McCoy at times. You could just a feel a new confidence in Marpet as the post-practice sweat poured off his face.
The guy to the left of Marpet, center Evan (Dietrich) Smith, who is known for being rookie-unfriendly, gave it up for Marpet after practice.
"It's one of things sometimes, whatever the group you play with, you might get a little more confidence playing with the [first team]. I thought he did quite well today," Smith said. "You can tell when he puts his hands on guys, you know, he's really strong. You just got to work to on making sure he gets to that point. Sometimes he gets a little outside his comfort zone, but when he's doing it right he's doing a really good job."
Smith said the maturation of Marpet has been evident, even though today was his debut with the first team in training camp.
"You see it on film. Everybody recognizes what goes down. It's no secret," Smith said.
You can watch McCoy square off with Marpet right here.