Day 5 – Training Camp Notes & Observations
August 6th, 2015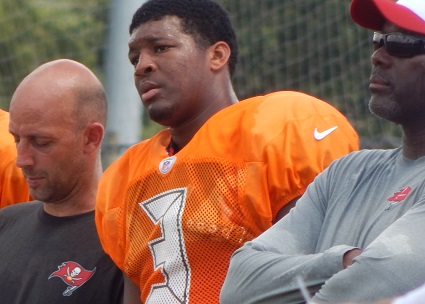 The full swelter was on today, as Bucs practice kicked off at 2:30 p.m. Joe's got all kinds of news, notes and nuggets.
Enjoy.
* Heavy Metal Day: First, Judas Priest, followed by Quiet Riot.
* Jameis Winston, America's Quarterback, throws such a pretty, soft pass on short routes. For receivers to drop it is borderline inexcusable. Yet that happened once when Jameis lofted a pass to Doug Martin in the right flat. Drop. Ball was placed right in his hands.
* Jameis with another soft pass over the middle to Austin Seferian-Jenkins on a crossing route from the left.
* Van Hagar.
* Jameis finds Kenny Bell over the middle but Bell drops ball that hit him right in the numbers.
*Your punt returners today were again rookies Kaelin Clay, the sixth-round pick, Adam Humphries, Rannell Hall and Donteea Dye. That's all rookies, for those keeping score.
*In punt coverage, Leonard Johnson gets chewed out for expecting a fair catch that wasn't.
*Kickoff work sees Clay as the No. 1 returner with Bobby Rainey blocking in front of him. Clay is getting a lot of coaching today.
*Kenny Bell takes a kickoff and looks a lot slower than Clay. Hall and Dominique Brown also took returns.
* Think music is now Poison — the band, that is.
* More Judas Priest.
*Ali Marpet is your first team right guard and Kevin Pamphile is your first-team left tackle. Great day by Marpet handling Gerald McCoy. Two stories breaking that down already on JoeBucsFan.com.
* Bucs' O-line taking a hit today. Backup center Josh Allen in a boot and wearing requisite floppy hat.
* ASJ over the middle but is well-covered. So what did Jameis do? Throws the ball high so the defenders can't get it. And ASJ goes high to pull it in.
* Journey.
* Jameis is red-hot. A 20-yard pass to the right side for Mike Evans. Bucs fans hope to see that early and often this fall.
* Motley Crue.
* ASJ again over the middle for a nice gain. This guy is a match-up nightmare for linebackers.
* Rookie receiver Rannell Hall goes up in traffic and hauls in a Jameis pass.
* Lotta drops on Winston so far. Easy, catchable balls.
* Mike Glennon makes a great, low throw to tight end Cameron Brate, 20 yards over the middle. Drop!
* Bon Jovi followed by Def Leopard.
* Jameis had ASJ over middle open but checked to Charles Sims.
* Jump ball from Jameis 30 yards down field on the right to Mike Evans into double coverage. Incomplete.
* Bell pulls away from LBs for a short catch from Jameis.
* Nice crowd at Bucs practice today. Close to full on steamy Thursday afternoon.
* Mike Jenkins seen coaching up bottom-of-the-roster cornerbacks Al-Haji Shabazz and Jude Adjei-Barimah.
* Survivor.
* Looked like Jameis tried to force a pass low to right side. Incomplete.
* Jameis looking fairly sharp today. Hits four in a row in 7-on-7, two to V-Jax, one to Charles Sims and one to Seferian-Jenkins.
* Glennon struggles a bit in 7-on-7, Danny Lansanah breaks up a Glennon throw to Mike James, who was never open on the play.
* Robert Herron makes a dazzling catch (again!) over the middle, skying high for a Glennon throw 20 yards down field.
* Billy Squier.
* Bucs take a water break to the tunes of the Scorpions.
* AC/DC now playing. Somewhere Jason Licht is head-banging.
* Jameis beautiful 60-yard pass for TD to Charles Sims. Interference ASJ. Still, fans erupt in glee.
* Jameis doing a better job today throwing away balls when nothing is there.
* More Scorpions. "Big City Lights." Perfect for Jameis.
*Lovie Smith is seen giving props to Rannell Hall for hanging on to a tough catch over the middle in traffic.
* Boston. The Band.
* Jameis over middle on slant to V-Jax. To. The. House. 60 yards.
* Jameis to ASJ in tight double-coverage right on his hands. This is the sharpest Jameis has been. Mostly right on target.
* Van Halen.
*Herron gets a first-team look in 11-on-11 and shows his speed — and hands!  — on a crossing route.
* If Jameis throws anything in a game like he is today, Bucs fans will be beyond giddy.
*Bucs' pass rush isn't what it was yesterday. Good job O-line.
* There's that Lansanah guy again breaking up a Glennon throw to Kenny Bell.
* Back to Bell from Glennon. Nice elevation on the catch.
*Mike Jenkins likes to be physical, dances the line of what's acceptable in practice sometimes. He brings Brandon Myers to the ground after a Glennon connection.
*Diving grab by Brate in third-team work. Great catch.
*V-Drops! Ugly drop by Vincent Jackson.
*Jameis vs. the second-team defense isn't fair. Touchdown throw to Robert Herron.
* Dozens of fans still hanging out after practice and autograph signing, beckoning Jameis to visit some 30 minutes after practice.