Lab Video: Jameis Winston And Vincent Jackson
August 14th, 2015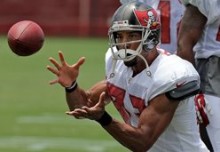 A rookie quarterback in a new offense is a recipe for more mistakes than expected.
But impressive chemistry brewing is still brewing in Tampa. That's a key component of the training camp experience.
The Bucs offense grinds together day after day, repetition after repetition. Slowly, Jameis Winston, America's Quarterback, is getting in rhythm. On Wednesday, it was evident at practice that great things are developing. Jameis got into a little hurry-up action and burned Johnthan Banks on successive plays. The second was a touch throw to the back of the end zone to Mike Evans.
Joe shoots a lot of video at Bucs camp. Much of that is so Joe can watch the film and study the Bucs in detail. Often, the video isn't good enough to share here (Joe is no videographer), but only good enough for Joe to study.
This time, Joe has a great look of 7-on-7 work. Jameis makes a very early throw to Vincent Jackson, who is right in sync. Fans can also see speedy dropmaster Robert Herron work. The kid runs tight routes and almost always appears open. If only he could squeeze the rock.
Enjoy.