Jameis Winston Says, "Fans, Please Don't Panic About One Half Of Football."
August 18th, 2015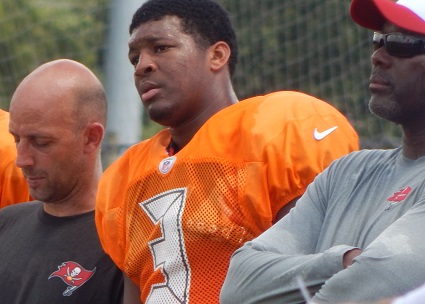 Don't bring your negativity to Jameis Winston, America's Quarterback.
Oh, no. Jameis is ordering you to kill it right now.
Jameis joined Steve Duemig of WDAE-AM 620 this evening for a conversation and explained.
"Fans, please don't panic about one half of football," Jameis said. "Please, there's no reason to. We did some great things and we're going to build on the positives."
Jameis went on to remind fans that Doug Martin only played seven snaps and the team is working to "find our nucleus."
Interestingly, Jameis referenced the Bucs' winless record at home last year and implored fans to come see the Bucs on Monday night, and know that the Bucs are playing to win every time they take the field.
"Stay with us," Jameis said. "Come witness a chance for us to win a game."
Passionate stuff from young Jameis, who clearly has developed a high comfort level with Duemig. Jameis went on to talk more about winning and what that means to him and this Bucs team. Listen via the link above.