"Jameis, Get Your Hip Open."
August 7th, 2015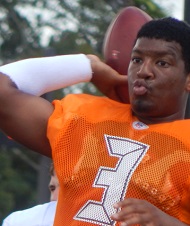 BSPN has a team of important NFL types at Buccaneers training camp today.
Practice starts at 4:30 p.m., but America's Quarterback, Jameis Winston, already has chatted with Ron "Jaws" Jaworski.
The longtime Eagles QB talked to Jameis about getting the baseball coached out of his football delivery. And Jameis acknowledged that he's been drilling himself on opening his left hip, something he didn't do as a fireball relief pitcher for Florida State University.
Jameis also said Bucs offensive coordinator Dirk Koetter is pounding the message into him, too. "'Jameis, get your hip open when you throw,'" Jameis told Jaws, mimicking Koetter.
This is one of the exciting elements to Jameis, the fact he's becoming a full-time football player for the first time.
Enjoy video of Jameis and Jaws below.