Jameis Film Shows Improved Mechanics
August 21st, 2015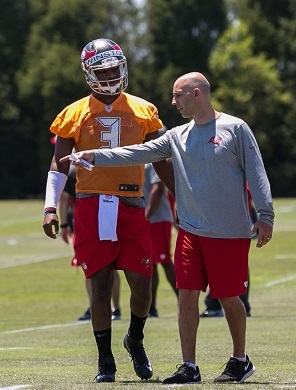 Longtime NFL Films Xs and Os guru Greg Cosell is down on the Bucs because he sees Tampa Bay as a team with a "pocket passer behind a bad O-line."
But Cosell also offered some upside after the Bucs' preseason opener in Minnesota.
Cosell spent plenty of time studying Jameis Winston, America's Quarterback, before the NFL Draft. And he scrutinized Bucs film from Saturday night. There's marked improvement, he said.
"I thought he had some issues understanding and recognizing safeties in the middle of the field, which he had that same issue his last year at Florida State," Cosell said of Jameis on the Ross Tucker Podcast. "I thought, thought that they clearly worked with him; I thought his stride was a little shorter and his delivery a little more compact."
Cosell also believes he knows what lies ahead on opening day for Tampa Bay from Titans defensive coordinator Dick LeBeau and the rest of the defensive minds around the league.
"I think they're going to be blitzed an awful lot. Really, they're going to force [Jameis] to play faster," Cosell said.
Yes, the blitzes are coming. (The Bucs play wild Rob Ryan and the Saints in Week 2.) Turnovers change games and Jameis is prone to them, and likely will be for the early part of his rookie campaign.
Bucs offensive coordinator Dirk Koetter is going to earn his money playing chess and making sure his playcalling helps keep Jameis in one piece, especially in September.