Head-Hanging Austin Seferian-Jenkins
August 21st, 2015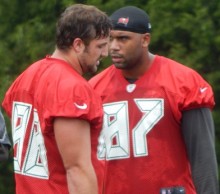 Joe is often asked how players look in training camp.
It's a tough answer for a variety of reasons, but after a couple of weeks of practices things start to stand out.
Noticeable yesterday was the continued struggles of second-year tight end Austin Seferian-Jenkins. It got to the point where twice Joe caught ASJ hanging his head, once after a very bad drop, and once after an incompletion that saw him outmuscled by Bradley McDougald, who is emerging as a force at safety.
The head-hanging was a new thing from the Bucs' No. 1 tight end.
Seferian-Jenkins is finally healthy, but his head doesn't appear right. And he is not standing out through this camp like he did last August, where often he appeared to be an unstoppable manbeast. Squeezing the football hasn't been his strength in 2015.
This doesn't take away from Seferian-Jenkins' immense talent. It hasn't waned. There's a reason Dirk Koetter dared to liken him to Tony Gonzalez, but that comparison was weeks ago. Joe doubts Koetter would go there today.
If anyone needs a strong preseason game, or even a few standout practices, it is Seferian-Jenkins.