"In College, You Don't Have Linebackers That Can Actually Defend The Pass."
August 13th, 2015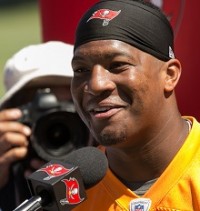 Cue the ACC bashers.
Jameis Winston, America's Quarterback, wasn't too impressed by college linebackers.
Asked on BSPN's SportsCenter by Ron Jaworksi about big adjustments for rookies to the professional game, Jameis pointed to the middle of the defense.
"I think the biggest difference is the linebackers. In college, you don't have linebackers that can actually defend the pass," Jameis said. "These guys out here, you know, they're jumping seam routes. They're five yards under my seam routes; they jumpin' a bender."
That interview was a few days ago, but there was Danny Lansanah again yesterday, picking off Jameis underneath and swarming in coverage. Lavonte David also has been on the other end of some Jameis passes this spring and summer. And Bruce Carter tipped a ball the other day, which luckily drifted over Major Wright and into the arms of Mike Evans (video here).
Linebacker play has been adjustment for Jameis, and that's ok.
Jameis went on to say it's part of the progression of football, from high school to college to pros.