"Finding A Franchise QB Is Like Finding A Great Woman"
August 13th, 2015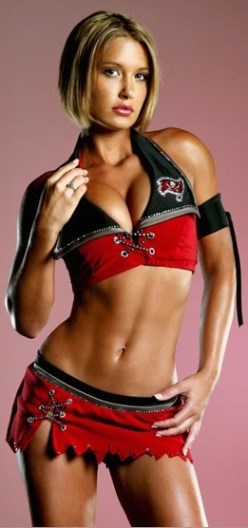 Bucs AC/DC-loving general manager Jason Licht is a lucky man. That's why Shaun King believes Licht bedded a 10.
King, the pride of St. Petersburg and one of three quarterbacks to lead the Bucs to an NFC Championship game, used the analogy of hitting the lottery with a hot chick to Licht being able to draft "America's Quarterback," Bucs signal-caller Jameis Winston.
That's what King suggested when he discussed the Bucs recently with Mike Bianchi on WYGM-AM 790 in Orlando.
King isn't quite ready to crown the Bucs a playoff team. But he believes Licht is building a formidable NFL offense for Tampa Bay and that should provoke sleepless nights for defensive coordinators in the near future.
"I think the only thing that could prevent Tampa from really being a playoff team this year is experience," King said. "When you look at them offensively they are going to be very talented. Mike Evans is only in his second year. Austin Seferian-Jenkins, because of injuries, is probably still a rookie. They are probably going to start two rookies on the offensive line with Ali Marpet and Donovan Smith. Charles Sims is still basically a rookie and you have a rookie quarterback.

"I just don't know, even if you are all extremely talented, if they can be consistent enough to make the playoffs. But I do think Tampa will be improved and, hey, if everything falls right we will see but you never know. Finding a franchise quarterback is like finding a great woman to be your wife. It's a good thing."
It's easy to agree there. The Bucs, if most of the draft picks from the past two seasons pan out, could be downright lethal in the NFL. First, they need games under their belts, not just preseason schlock.
It ought to be a lot of fun for a change to watch. My, how times are a changin.'
To hear more of King's interview, click on the audio below.