Garrett Gilkey Is Your No. 1 Right Guard
August 2nd, 2015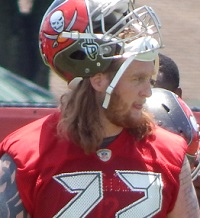 Joe can't shake that annoying Emergency Broadcast System tone pulsing through his head right now. For now, on August 2, Garrett Gilkey is the Buccaneers' first-team right guard.
It doesn't mean much this early, but Bucs fans' panic last year about Oneil Cousins and Jamon Meredith starting at guard proved legitimate. And it led to the panic-move trade (but a very wise trade at the time) for Logan Mankins in late August.
Joe asked Dirk Koetter about this development, after seeing Gilkey work — and struggle — with the first unit over the past two days. Koetter confirmed that Gilkey is top dog in a wide open battle.
"We're working three or four different guys," Koetter said. "That right guard is an open competition. Garrett Gilkey is working with the ones right now, but Ali is in there, Ali Marpet's in there And Kadeem [Edwards] is also in there, No. 73. Those three guys are kind of battling for that spot right now."
The X-factor here is that the team has not practiced in pads yet. Players can't hit each other and play real football, so judgment is difficult. But somebody has judged Gilkey worthy of this shot.
Pads likely come on tomorrow. Joe really is pulling for Gilkey, as he does all the Bucs. Perhaps Gilkey can look like a solid NFL player.
After practice today, Demar Dotson said he trained with Gilkey most of the spring and called Gilkey a changed man. He said Gilkey told him back in March that he wanted the starting right guard job and was going to do everything to get it.
Joe won't sleep well tonight. But this is the season of optimism. Regardless, Joe can't wait to get a look at Marpet and how his strength measures up in practice when hitting is allowed.