Eli Manning Teammate Compares Him To Jameis
August 28th, 2015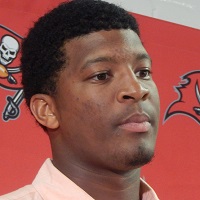 The reason Joe calls Jameis Winston "America's Quarterback" is because he has captured the interest of the United States football fan.
Loved and hated, Jameis has intrigued the nation.
So it's no surprise that a big New Jersey newspaper, publishing online at NJ.com, has a headline today that includes Jameis.
Giants rookie Bobby Hart, out of Florida State, was interviewed and asked about Jameis. Here's part of the exchange:
From a distance we see him and Eli Manning having different personalities. Jameis is more outgoing. One is maybe more outoign than the other. How different is it to be the in the locker room? 
Well, actually, they are kind of the same with their knowledge of the game and preparation and just overall quarterback persona. 

Really? 
Yeah, with Eli you're just sure he knows what he is doing. With Jameis, because I know how much he's prepared and how much he's put into it – because I did it with him – there is just trust. You just trust that they know what they're doing. There are a lot of similarities between those two. 
There's more via the link above.
Remember, Kevin Gilbride, the longtime Giants offensive coordinator and winner of two Super Bowls, compared Winston to Manning before the draft. Also remember that Manning threw 26 picks in his first 23 starts, while barely completing 50 percent of his passes in that stretch.
The NFL is unkind to most rookie QBs, regardless of talent and pedigree.