Dirk Koetter: "Bottom Line: We Stunk."
August 31st, 2015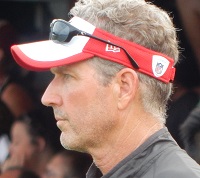 The stink of the Bucs offensive versus the Browns led to a breath of fresh air this afternoon at One Buc Palace.
The sweet smell of reality came from offensive coordinator Dirk Koetter.
Asked about the latest performance of his offense, Koetter said, "Bottom line: We stunk." In fact, Koetter used the various forms of the word stink multiple times.
It was a fun departure from a lot of the coachspeak Bucs fans have heard since the demise of the Raheem Morris years.
Koetter also put plenty of blame on himself, especially when saying two of the sacks absorbed by the Bucs offense "were on me."