Day 6 – Training Camp Notes & Observations
August 7th, 2015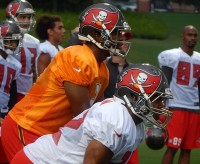 Busy day at Bucs training camp practice this afternoon. Tampa Bay practiced before a packed house of season pass holders, plus a crew of 30 BSPN SportsCenter crew.
Of course, Joe was there to soak it all in and provide your need-to-know. Enjoy!
* Vincent Jackson was responsible for today's music ensemble, which was hip hop Joe only recognized a song or two but none of the artists.
*Jameis Winston, America's Quarterback, was not nearly as sharp as he was yesterday. Had some moments but overall looked like a rookie.
*Doug Martin runs up to the line, dances a polka waiting for a hole and is swallowed up by the defense. Bucs's first team is working on running up the gut, sans receivers. The second run is stuffed, as well. And run No. 3 is stuffed.
*Jacquies Smith is back at right defensive end, where he was yesterday. Donovan Smith is your first-team left tackle and Ali Marpet is your right guard.
*Fourth run is OFFSIDES! Gerald McCoy.
* Bobby Rainey shows the "Muscle Hamster" how it is done and bursts through the line for a 35-yard run. Rainey scores on next run, followed by Mike James up the gut and into the end zone.
*Jameis lofts ball down left sideline, Banks camps under it like a can of corn. Pick.
*Next pass is a wobbly offering by Jameis to Mike Evans. Ugly
* Bucs sending kitchen sink at Jameis last two plays. Nearly completed both. #OperationRattleJameis … Charles Sims could stand to improve his pass blocking.
* Had Glennon not worn an orange jersey, he would have been splattered by Da'Quan Bowers.
* Loud fan at practice hollering at Glennon, "Throw it! Throw it! RUN IT!"
* Fourth pass, Jameis threads needle to Kenny Bell on left side. Quick strike for 10 yards.
* Jameis under heavy pressure takes the crumbs and checks down to Hands Herron.
*Jameis completes deep to Vincent Jackson but this was a sack in a real game. Larry English beat Demar Doston badly.
* LoudFan demands Jameis throw "On a rope!" And Jameis throws a rope to Herron.
* Jameis checks down to Kaelin Clay in right flat, ball off his hand, incomplete.
* The immortal Chris Hackett blows up Tim Wright to force fumble.
* LoudFan on EVERY pass play, "On a rope! HARD!" Forget about the completion, just throw a fastball.
* Perfect pass from Jameis to Austin Seferian-Jenkins in seam. Great touch. ASJ fumbles after getting splashed by Johnthan Banks but recovers own fumble. ASJ is quiet as defense celebrates.
* LoudFan as Jameis is calling audible, "TIME OUT!"
* Very nice rollout and throw by Jameis which hits Adam Humphries in breadbasket and dropped.
* This time Jameis pump fakes and finds Adam Humphries in seam. Caught.
* Jameis leads Humphries (throws open) complete for 12 yards.
* DROP! Brandon Myers with third team.
*Different guy in crowd yelling for "Stick'um." Bucs have dropped a lot of balls today.
*Herron seen jawing a bit with Mike Jenkins, who always brings an edge to practice.
*FLAG! Defensive holding. Banks on Martin.
*Short pass to Tim Wright.
* Not a good pass Jameis. Throws low on screen to the left in traffic. Should have been picked. Batted down.  In a game, that easily could have been a pick-six.
* Doug Martin just got clocked. Didn't catch culprit.
*Bruce Carter with a very nice breakup on Kenny Bell. Pass by Jameis.
* Jameis hits Wright in stride for what looked like a TD on a crossing pattern but ball popped in air and picked.
*Standout diving catch by tight end Cameron Brate running left to right with third team.
* DROP! Bad one by Martin.
*Well done, Sims. Much better pass blocking.
*Jameis to Herron, 20 yards in the left seam. Pretty. Well blocked by the O-line.
*FUMBLE Jameis. Ugly stuff as he went back to hand off to Martin.
*Helmet crack! Gerald McCoy meets Sims in a hole.
*Larry English bull rushes Donovan Smith easily. Too easily.
*Jameis shows some escapability and hits Mike Evans with Isaiah Frye. About a 15 yard completion on right sideline. Encouraging stuff as practice winds down.