Day 14 – Training Camp Notes & Observations
August 20th, 2015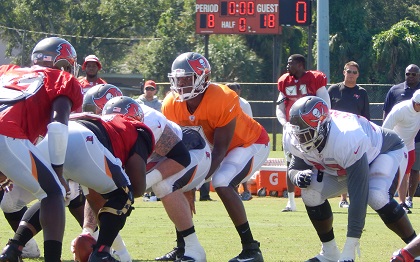 Updated: 2:58 p.m. – Bright sunshine, full pads and a hard working football team at One Buc Palace this morning. Yes, your Bucs are grinding away in preparation for their second preseason game, Monday night in Tampa.
Joe was on the sidelines and has all kinds of play-by-play and more. Enjoy!
*Warren Sapp, Ronde Barber and Booger McFarland are in the house and on the field. Joe wishes those guys could suit up.
*Bradley McDougald and Major Wright are your first-team safeties out of the gate.
*Left tackle Donovan Smith and guard Ali Marpet are with the first team today.
*In pass rushing drills, Kadeem Edwards stonewalls Will Gholston. Half of the Milk Cartons is starting to show up.
*Speaking of the other half of the Milk Cartons, Kevin Pamphile was again on floppy hat patrol. Dude has an open path to (temporarily) get the starting right tackle position or maybe win it outright but he can't get on the field.
*Bucs working on lots of runs. Of course, there's no real hitting of running backs, but it seems the O-line is having a solid day.
*America's Quarterback, Jameis Winston, is sharp with his first throw, a perfect back-shouder, 15-yard strike to Mike Evans. It was mostly Sharp Jameis showing up today. Then it's right back to Charles Sims in the right flat. O-line is blocking!
*Mike Glennon is complete to Russell Shepard in front of cornerback Al-Hajj Shabazz.
*Doug Martin up the gut for two yards? Then again Martin goes two yards before what would have been contact. Tough to judge these runs without film, but at least there are no defenders in the backfield.
*Glennon scrambles left and throws right, a strike to Kaelin Clay.
*Glennon now throws left to Tim Wright. Complete.
*Glennon over the middle to Shepard. Sharp series from No. 8.
*Jameis is back and hits a nice crossing route to Kenny Bell. Seemed like holding on Evan Smith.
*Jameis drops a pass right into the waiting hands of Rannell Hall, (haven't seen much of him of late), 15 yards and a nice move after the catch in between defenders. Couldn't put any better touch on the ball or accuracy. This was against the second-team defense.
*Skirmish! Clinton McDonald and perhaps Evan Smith? It's hard to tell. Gerald McCoy marches across the line of scrimmage after it breaks up and things heat up. McCoy and Jameis appear to be jawing and McCoy's helmet hits the ground. Joe's got video coming. Lovie gathers the team for a chat.
*7-on-7 work starts with an INTERCEPTION! Mike Jenkins, errrrrrr, Johnthan Banks races in and snags the Jameis pass intended for Louis Murphy.
*Ugh. Drop/breakup. Jameis to ASJ with Danny Lansanah on him.
*Jameis bounces back complete to Tavarres King.
*Glennon throws a perfect fade to Mike Evans in back of end zone to the right.
*It's the "Quarterback of the Future" right back complete to James.
*Tim Wright shows very strong hands with linebacker Josh Keyes all over him. Touchdown. Wright gets, "That's it Timmy" from a loud coach.
*Jameis is too long for ASJ. McDougald in coverage. The safety is everywhere today.
*Jameis with a smooth TD (eight yards) to Brandon Myers over the middle. Too easy.
*Good football play. Sims flashes his hands in the end zone out of the backfield with linebacker Jason Williams on his back. Jameis with the throw.
*11-on-11 is back. Jameis rolls out right and hits Doug Martin in stride. Martin's juice gets the edge. Big gain.
*Clinton McDonald blows past Evan Smith.
*Pass blocking is there again but nobody's open. Jameis three-yard run.
*Martin hit in hole up the gut. *Rainey finds a hole off left guard with first team.
*Glennon scrambles right and hits Mike James with an inch to spare in the end zone. James does the toe tap.
*Man, Martin is running low and hard this year.
*Austin Seferian Jenkins (ASJ) has McDougald on him in the corner of the end zone. But the throw is a little low and ASJ appears to get outphysicaled on the play.
*Jameis to ASJ on a crossing route. Drop! ASJ goes down from hit. Hangs his head in frustration after play.
*A Bruce Carter sighting! He's in the backfield on a Mike James run. Second team vs. second team.