Day 11 — Training Camp Notes & Observations
August 17th, 2015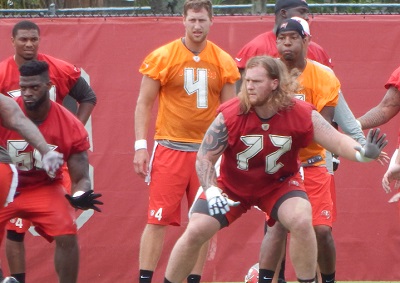 It was an underwear football day at Bucs practice this afternoon –no hitting with Tampa Bay coming off a Saturday night preseason game.
Joe's got highlights.
*Joe isn't sure of the song or the name of the artist, but the singer keeps repeating the same lyrics over and over and over and over, "DJ… DJ… DJ… DJ… DJ… DJ… DJ… DJ… DJ… DJ… DJ… DJ… DJ… DJ… DJ… DJ… DJ… DJ… DJ… DJ… DJ… DJ… DJ… DJ… DJ… DJ… DJ… DJ… " If Joe didn't know better, he would have thought it was Gene Simmons singing "Calling Dr. Love." (Trivia: Simmons openly admits inspiration for the song came from watching The Three Stooges episode, "Men in Black.")
*Doug Martin has not forgotten how to bite a football. He takes a handoff from Jameis Winston and rolls right and heads to the house, biting the football.
*The Bucs are practicing in half-underwear today. Helmets and shoulder pads but no leg pads. To give you an idea of how little hitting there is, linebackers will initially (softly) make contact with a ballcarrier and them pull up as if they are a victim of a stickup.
*Michael Jackson.
*Vincent Jackson hauls in a bomb from Jameis down the middle.
*Charles Sims up the middle. Joe seems to be seeing many more run plays than last week, especially between the tackles.
*Brace yourselves: Patrick Omameh is getting work in at first-team right tackle.
*ZZ Top.
*Jameis is flushed out of the pocket and rolls left. He throws on the run and perfectly hits VJax in the hands on a crossing pattern from the right. Couldn't throw it any better. The blocking on the right side? Wwweeellllll….
*Jameis continues to throw to tight end Austin Seferian-Jenkins and this time ASJ hauls it in down the right sideline for a big gain.
*Jacquies Smith is on floppy hat patrol with Orie Lemon, Kevin Pamphile and some others. Alterraun Verner had a family issue to attend and was not at practice. Sterling Moore was getting work at first team corner and at nickel.
*Jameis rolls right and is a little too high for Brandon Myers.
*Jameis throws deep to the left corner for VJax and Bradley McDougald camps under the can of corn and picks it (VJax didn't even try to jump for the ball which Joe can't blame him. Why rise up and blow out a leg in practice?). Jameis is so peeved, apparently, he chases McDougald down running back and forth to catch him. But Jameis didn't run McDougald down in a Cam Newton sort of way.
*Jameis recovers quickly to find VJax over the middle for a nice gain.
*Jameis is a little out of sync with Mike Evans.
*Wide receiver screen: Mike Glennon to Tavarres King. Well executed.
*After practice, a handful of Bucs head to the ball machine for extra catching work. Kenny Bell is barked at and told he's at his limit of 15 and it's time for the next guy. Bell barks back,"Gimme 20."