"Somebody Had Urinated In My Baseball Glove"
July 4th, 2015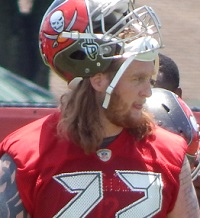 Best known by Bucs fans for being a virgin center, understandably ill-suited to start a game, Garrett Gilkey is known nationally for another reason.
A couple of years ago, ESPN.com told Gilkey's tale of being victimized throughout childhood by bullies. And more has been written about his subsequent journey and charitable efforts.
Casey Phillips of Buccaneers.com explored this topic with Gilkey for the new video feature below.
Joe found it compelling, especially on Independence Day. Freedom in the United States takes on very different meanings.