Ronde Barber: "If I Could Use That Tired-Ass Cliché"
July 3rd, 2015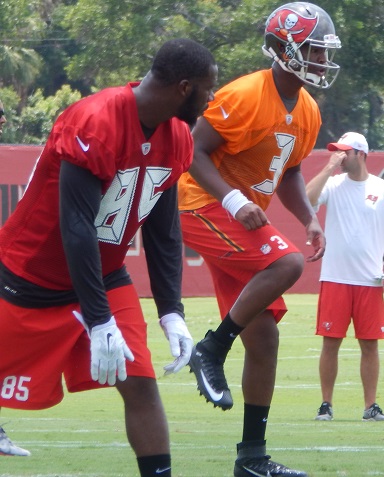 Ronde Barber has studied more quarterbacks than most cornerbacks in NFL history, and Barber spent a huge chunk of the spring, including significant time on the sidelines of Bucs practices, studying Jameis Winston.
Barber was impressed by what he saw of America's Quarterback on the fields of One Buc Palace. The raw everything is there, Barber explained on CBS Sports Radio, in addition to the instincts of the great QBs.
"He gives you the spectacular, but he also gives you the rookie, Barber said. "But what I will say about [Jameis] is he plays with zero fear. He'll let go of any ball. He has that confidence.

"I've played against guys that have supreme confidence in themselves and their ability to make plays. You can already see it. He has no fear letting the ball go.

"The guy that preceded him at Florida State, E. J. Manuel, I did a couple of games of Buffalo over these two years that I've been working at FOX, and he is the other way. He's timid. He holds the ball. He's scared to deliver it when he needs to. This guy is the complete opposite, maybe to a detriment at times; he throws a lot of interceptions.

"But he has that "it," that bravado, that gunslinger mentality, if I could use that tired-ass cliché, to be a great quarterback in this league. I think the good ones have that. Now how he learns to deal with that as a pro and take care of the football and do the right things on the football field? But he has the tools."
Well, that should keep Bucs fans off the hard liquor this weekend. Barber's post-draft scouting report is what you want to hear.
The Bucs are so desperate for leadership from the quarterback position, in addition to a guy with the stones and tools too make plays.
Now Lovie Smith just has to make sure not to transform Jameis negatively with overprotective coaching. Use the weapons and let Dirk Koetter play aggressive football.