"Because That's What His Mindset Is"
July 3rd, 2015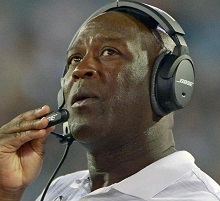 So what is Lovieball and how does it apply to the 2015 Buccaneers head coach after he absorbed a brutal punishment last season?
According to Bucs glory days defensive tackle Booger McFarland, change is not in Lovie Smith's DNA.
Adding seasoned offensive coordinator Dirk Koetter and America's Quarterback won't stop Lovie from punting on 4th-and-1 from the opponent's 45 yard line, Booger said today while co-hosting on SiriusXM NFL Radio.
The conversation centered around how the performance of the Bucs defense this season might affect Lovie's job security.
"Lovie's always going to make sure that he, if he has to lean one way, he's going to trust the defense more. So the defense has to be good because that's what his mindset is," Booger said.
The former defensive tackle then went on a rant about how defense wins championships and no matter what the NFL does that won't change.
Joe seriously doesn't get that popular take and considers it nonsense. Seattle had the No. 1 defense in the NFL last year, plus dynamic offensive players, yet they lost to the Patriots, who needed a shootout, 35-31 win to get out of their first playoff game.
Two years prior, the Ravens won the Super Bowl with the 17th — seventeenth! — ranked defense. They allowed 30-plus points in two playoff games.
Heck, Booger's sidekick in Tampa, iconic Warren Sapp, has said multiple times that defense does not win championships.