Orlando Would Host Jameis Winston Trial
July 10th, 2015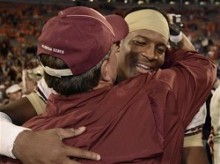 How fitting that the Florida home of Mickey Mouse and fantasy, where legions of soccer-crazed lunatics run around in purple shirts screaming, "Kaka," will play host to what might be the most important legal proceedings in Buccaneers history.
Yes, America's Quarterback, Jameis Winston, has that nasty civil suit hanging over his head from a former Florida State classmate who claims Jameis raped her in December 2012. No criminal charges were ever filed, and Jameis also was cleared by an independent former state supreme court justice as part of a school disciplinary hearing.
Jameis was trying to have the trial venue moved to Tallahassee, but a judge ruled yesterday that was unnecessary and the case would proceed in Orlando.
WESH-TV in Orlando has a good video of the attorneys for both sides talking outside the courthouse. Per the report, the lawyer for the accuser says 63 percent of potential jurors in Tallahassee claim to be Florida State fans and there were concerns for his client's safety in that region.
Joe can't wait for justice to prevail. Joe's also wondering whether Lovie Smith, if subpoenaed, could be asked a few Josh McCown questions under oath.