Mike Evans Follows Through With Randy Moss
July 21st, 2015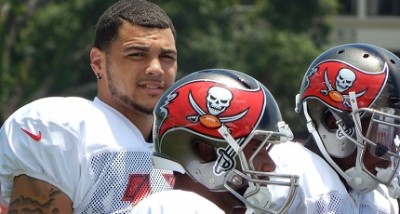 The Buccaneers' No. 1 receiver, 21-year-old star Mike Evans, hasn't taken his foot off the gas since working out with Randy Moss this spring and joining America's Quarterback, Jameis Winston, for a summer chemistry session in Tallahassee.
Evans told USA Today that he would reconvene for lessons with Moss after July 4. And it has happened.
Terrelle Pryor, who joined the festivities, shot out a photo via Instagram. (Warning, it's five smiling shirtless dudes, with Moss next to Evans.)
Joe recalls Josh McCown saying repeatedly that Evans' commitment to improving during his first NFL offseason likely would shape and define his NFL career.
McCown was — and is — a miserable quarterback, but he was around many superstar receivers through his long career. McCown spoke from experience.
Yes, it seems the Bucs have a gem in Evans. And Joe can't wait for Evans to prove that his struggles through the final six games of last season were because of miserable quarterback play and inept playcalling. Evans had just one game in that stretch with more than 50 yards receiving.