Baseball Strong Or Baseball Weak?
July 21st, 2015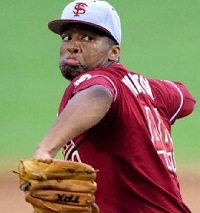 America's Quarterback, Jameis Winston, was a baseball standout at Florida State cranking out 95 miles-per-hour fastballs.
Did playing baseball help Jameis' arm by limiting his football throwing when it wasn't football season, or did it hurt his football arm, because he was wearing it out and not developing football strength?
The topic of rookie QBs coming down with a "dead arm" was discussed by Bucs beat writer Rick Stroud on WDAE-AM 620 recently.
Stroud and radio running mate Tom Jones, a noted Joe basher, noted Blake Bortles had a weak arm issue with the Jaguars last year, and Stroud referenced that Brad Johnson took practices off during his Bucs days.
So what about Jameis? The optimist in Joe says Jameis will unveil his strongest arm yet in 2015. The watchful spring care of the Bucs' strength staff, and the normal physical progression of a young 21-year-old, should do the trick, right?
It's a tough question. There are few, if any, guys with the physical history of Jameis, especially with that much juice on his fastball. Remember, there was a question about his shoulder at the NFL Scouting Combine.
Hopefully, the Bucs will be able to run the damn football for a change, which should make the endurance of Jameis' 2015 arm a moot point.
You can listen to the full take of Stroud and Jones right here, via 620wdae.com.