Louis Murphy, Akeem Spence Will Not Practice
July 31st, 2015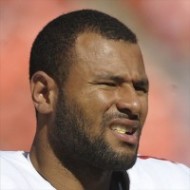 UPDATED, 12:47 p.m.: Welcome to the NFL. The injury bug already is affecting key Buccaneers.
The Bucs reported to training camp today and, as general manager hinted Tuesday night, there are couple of wounded Buccaneers.
Lovie Smith said today that Akeem Spence, 3 1/2 sacks last year, has a back injury and will not practice tomorrow. Also, per Lovie, Louis Murphy will be out after injuring his ankle with "a freak accident."
Officially, Murphy is on the Active/Non-Football Injury list and Spence on the Active/Physically Unable to Perform list. Their designations can be changed at any time.
Hmm, perhaps this is why the Bucs made the move to re-sign Da'Quan Bowers this week, who ended last season as a defensive tackle.
There are no more details on Murphy. If nothing else, it opens a small door for rookie receivers Kenny Bell and Kaelin Clay, and Russell Shepard.