Lavonte David Digging In?
July 24th, 2015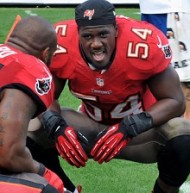 Money talks, and it seems Lavonte David doesn't like what he's hearing.
NFL Network was reporting last night and this morning that David and the Bucs are far apart when it comes to settling on a contract extension.
(Translation: David's agent made a phone call because he doesn't want the Bucs to get comfortable in negotiations.)
David, a 2012 second-round pick, is in the final year of his small rookie contract. And as Joe explained eight days ago, David likely is seeking about $30 million guaranteed, as part of a long-term contract.
All this is probably typical back and forth before a deal gets done either right before training camp starts, or in the final hours prior to opening day in September.
But Joe can't help but wonder how much the toll of losing — the Bucs have just 13 wins in David's three seasons — and being ignored for the Pro Bowl has David wondering how green the grass might be with a winning franchise.