How Much Is Lavonte David Worth Now?
July 16th, 2015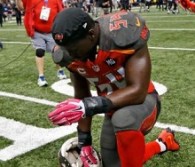 Nervous Bucs fans sit around chugging vodka and wondering if Tampa Bay will lock up superstar linebacker Lavonte David so he doesn't become an unrestricted free agent in March.
Yesterday's six-year, $101 million contract signed by Chiefs linebacker Justin Houston, with $52.5 million guaranteed, didn't help their nerves.
Yes, Joe realizes Houston is a pass rusher with 22 sacks last year playing in a different defensive scheme. But agents and players don't think that way. Houston is a linebacker, and he's now the second-highest paid defensive player in the NFL.
So what's David worth these days, in the era of skyrocketing NFL salaries?
Searching to compare David to one of his fellow 4-3 linebackers, Joe thought Rams tackling machine James Laurinaitis was an interesting comparison. Laurinaitis, like David, was a second-round draft pick (2009). He's also been slightly underrated nationally through the years (like David) but regularly lands on the NFL Top 100 list, as voted by players for NFL Network.
In 2012, after three seasons in St. Louis, the Rams extended Laurinaitis' contract to the tune of a five-year, $42.2 million deal with about $23 million guaranteed. That was three years ago, David is just 25 years old, and seems to be a slightly better talent.
Are David's people digging in for $10 million a year and $30 million guaranteed?
Jason Licht publicly has said a deal for David is a priority. Many Bucs fans think it's a given that it will get done, and the Bucs have a giant pile of 2015 salary cap room. But Joe can't be so confident. Either side could decide to let the season play out.
If Joe were David, of course Joe would sprint to sign on the dotted line for guaranteed eight figures of glorious cash. But that's just Joe.