Jameis Plays Word Games With Ira Kaufman
July 26th, 2015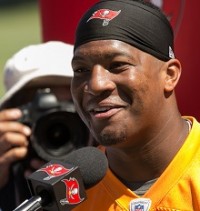 The media circus is coming for Jameis Winston, and eye-RAH! Kaufman of The Tampa Tribune got training camp week rolling at Tropicana Field this afternoon.
No, Joe is not using backhanded methods to call Kaufman a clown. Not at all.
The veteran scribe asked Jameis whether he was "nervous" or "eager," or "a little of both" as his first NFL training camp nears in a matter of hours.
Calm and cool under pressure, young Jameis would not be boxed in.
"Anxious," Jameis answered, via WTSP.com.
Man, Joe is all jacked up. Joe might just be at One Buc at sunrise tomorrow to watch Jameis enter the building with the rest of the Tampa Bay rookies.
(You can hear more from Jameis tonight with WTSP-TV, Ch. 10 sportscaster Chris Fischer.)