"I've Been Told, 'No,' So Many Times"
July 2nd, 2015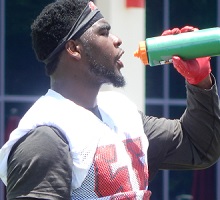 Defensive end Jacquies Smith's story is much like Joe's experiences with women.
"No. No. No. No. No," is a chorus Smith has heard many times since being undrafted out of the University of Missouri in 2012.
When you have the Hamilton Tiger-Cats of the CFL on your football resumé, you know it's been a rough career path.
Joe often writes about the almost unrealistic hopes for the Buccaneers' no-name defensive ends. (Remember, that is why the regime fought to pay Trent Cole and danced a sleazy tango with Greg Hardy.) But Joe does not discount the accomplishment of Smith last season. The guy played with fire, showed legitimate edge speed on the left side and racked up 6 1/2 sacks while starting less than half the year.
At 25 years old and coming off the street, it was damn impressive stuff. Smith has a lot to prove but has the right attitude. In April, Smith put a firm goal on the table and called himself a double-digit sack guy.
Enjoy the video of Smith's journey below. Joe's pulling for the guy. If Smith succeeds, Joe sure hopes the Bucs don't kick him to the curb, like they did Michael Bennett.