Hawk Chirps About Being A Defensive Misfit
July 15th, 2015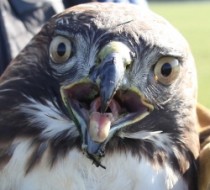 The last two sets of Bucs coaches loved Dashon "Hawk" Goldson and his football intelligence and professionalism.
Hawk, however, is happy to be gone from Lovie Smith's defense.
BSPN.com recorded some of Hawk's recent chirpings as he prepares for his first season with the Redskins.
Goldson was not crazy about playing in the Tampa 2 scheme. Indeed, his lack of fit in that scheme under coach Lovie Smith was among the reasons why the Bucs traded him.

"Everyone knows I'm an aggressive player," he said. "I like to be in the mix, to have gap responsibilities and all that extra stuff. I like to get my hands dirty. I like to be in the mix a little more often than I was in a Tampa 2.

"It was different. Last year was a little different based on some of the things I was used to and more how I felt."
So was a Hawk a bad fit for Lovie's we-don't-adjust defense, or was Hawk a banged up, aging safety still shocked from his public neutering by Roger Goodell in 2013? Joe would say it was a little bit of everything.
Yes, the Redskins will let Hawk fly free, make plays and live on the edge of the rule book.
Joe just hopes that Hawk, in Week 7 against the Bucs, doesn't decapitate Vincent Jackson or Austin Seferian-Jenkins over the middle. Those are some awfully big and somewhat slow targets.