"I Was Surprised How Hard He Actually Plays"
November 22nd, 2014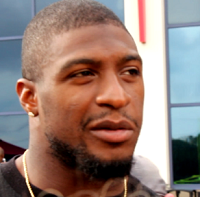 A telling moment for Joe while hanging out at One Buc Palace this spring was a 1-on-1 chat with Lovie Smith's son, Buccaneers safeties coach Mikal Smith.
Joe asked the younger Smith, who's in his late 30s, whether he wants to be a head coach and follow in his dad's footsteps.
Smith said he does want to be an NFL head coach and he expressed that he thinks all assistant coaches want to be head coach. That was an eye-opener because, of course, many assistants have no interest in being a head coach (other than dreaming of that paycheck).That told Joe that Mikal Smith is completely dialed in to all aspects of coaching, not just his position.
So it was noteworthy to Joe when Smith talked this week about his evaluation of safety Dashon "Hawk" Goldson. Smith underestimated him, so he told the Buccaneers Radio Network.
"Very intelligent player, plays extremely hard. That was one of the things that I didn't know about him before coming. here," Mikal Smith said of Goldson. "You hear about all the other stuff and I saw him play with the 49ers. But when I got here I was surprised how hard he actually plays. With him, he's just like another coach in the room. You know, just with the guys out there they gravitate to him. He's definitely a leader on the team."
It'll be interesting to see how "Hawk" performs through the Bucs' final six games. He's finally healthy, but he'll have to look like an MVP candidate for the Bucs to pay him the roughly $8 million he's due next season.
However, Joe wouldn't be shocked if the Bucs looked to renegotiate Hawk's contract if he comes on strong. Lovie — and son — have spoken so glowingly about Goldson being a brilliant football mind and a leader of men.