Derrick Brooks "Is Gonna Meet With Jameis Every Day"
July 11th, 2015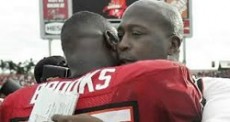 Bucs fans will sleep better tonight knowing this fresh piece of news.
Derrick Brooks made two appearances on the Ron and Ian show on WDAE-AM 620 yesterday, as part of a live-remote event with the Tampa Bay Storm.
After the first appearance, co-host Ian Beckles, Brooks' former Bucs teammate, shared what he called an "off-the-air" conversation with Brooks earlier that day.
The two talked about America's Quarterback, Jameis Winston.
"He's going to meet with Jameis every day when [Jameis] comes back to Tampa," Beckles said of Brooks. "That's never happened in the history of the NFL, where somebody takes their time to mold somebody, and Derrick said the same thing I've been saying the whole time, 'Jameis Winston is used to success his whole career, which is cool. The second he fails, how is he going to deal with it?' And that's going to be the most important thing."
There was silly speculation before the NFL Draft that Brooks would have Jameis live with him, if the Bucs indeed drafted Jameis.
That was never going to happen, but this fresh news is far better. First, it's great that Jameis is open to this kind of daily mentoring, and there can't be a better local choice. Second, Joe would have worried about Jameis if he wanted to live with Brooks and his wife and kids. That's not what a 21-year-old millionaire should be interested in.
For those unaware, Brooks has served as a regular mentor and sounding board for Lavonte David and other Bucs in the past. The "every day" component for Jameis is a level Joe had never heard attached to another player.