"Blessed" Bowers "Definitely" Likes Defensive Tackle
July 31st, 2015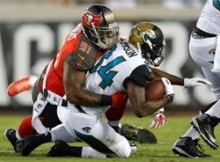 A heralded defensive end out of Clemson, a second-round draft pick of the Bucs, Da'Quan Bowers doesn't play that position any longer.
Joe talked to Bowers this morning as he arrived at One Buc Palace.
Bucs fans returning from summer slumber might not realize Bowers has returned for his fifth Bucs season. It's almost shocking, as he's often called a bust. However, Bowers proved late last year that he was a legitimate defensive tackle. He started in place of Gerald McCoy when McCoy was shelved in December with an injury. Bowers wasn't great, but he wasn't a liability.
He re-signed last week on what general manager Jason Licht called a "low-risk" deal for Tampa Bay. Translation: little, if any, guaranteed money.
Bowers, who says he's "blessed" to be back, shared tales of powerful personal workouts on social media this offseason. Fitness has been an issue for him in past summers and Joe asked him about that as the sun rose.
I'm in "pretty good shape, but you can only be in football shape playing football. So, that's to be expected. There's still a lot of work to be done," Bowers said.
As for how he likes the change to defensive tackle, Bowers said he "definitely" likes it. "It's something I got used to last year, looking forward to making better strides at it this year. … There's a lot to be learned. Gerald [McCoy] did a great job last year trying to string me along, but there's still some leaps to be made. I'm looking forward to be making those leaps," he said.
Bowers, 25, said he's "blessed" to be back in Tampa and didn't want to reveal the other teams that sought his services.
Wouldn't it be something if Bowers somehow had a breakthrough training camp and season. It's still July, the season for optimism. Joe's rooting for Bowers to shock the world.