A Freeman Eulogy?
July 27th, 2015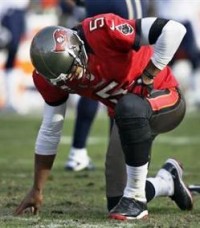 A big national voice slapped Josh Freeman for dedication issues and believes his release from the Dolphins last week is the end of the line.
Joe's not so sure it is the end for Freeman. And while Freeman was leaky and sleepy as a Bucs starter in 2013, there was no indication he was anything but a committed QB in Miami.
Taylor Swift-listening, pickpocket-thwarting, Bucs-uniform-frowning, Allie-LaForce-smitten, Big-Ten-Network-hating, pedestrian-bumping, olive oil-lapping, popcorn-munching, coffee-slurping, fried-chicken-eating, oatmeal-loving, circle-jerking, beer-chugging, cricket-watching, scone-loathing, college football-naïve, baseball-box-score-reading, NPR-honk, filthy-hotel-staying, fight-instigating, barista-training Peter King, of Sports Illustrated and NBC Sports fame, is the one burying Freeman, via his Monday Morning Quarterback column today.
9. I think Josh Freeman—cut by the Dolphins on Friday, probably ending any shot of a further NFL career—will look back on his career one day and say, "I should have worked harder." Especially in Tampa Bay. But when you sign with the Vikings in 2013, and it last one game; and when you sign with the Giants in 2014, and it lasts five off-season weeks; and you sign with the Dolphins in 2015, and it lasts 10 off-season weeks, and you're cut on the eve of training camp, at age 27, with Matt Moore the backup who has beaten you out … the message is pretty clear. Freeman was talented enough. But beginning with the Greg Schiano Bucs, he just didn't dedicate himself to football the way a starting quarterback should.
Frankly, Joe has no confidence that Freeman is getting good advice. It's even possible Freeman asked for his release, if his agent was sure he'd get a better opportunity elsewhere.
Obviously, the Dolphins are quite happy with Ryan Tannehill and backup Matt Moore, who were in the system last year.