What's In "The Pudding?"
June 24th, 2015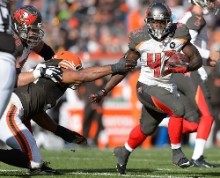 Former NFL offensive lineman Ross Tucker, the guy who is very sour on Bucs rookie left tackle Donovan Smith, was adamant about running back performance on SiriusXM NFL Radio this week.
Tucker agreed that fans, media and personnel men can argue all day whether a running back's performance is more a function of his offensive line or his skill. But Tucker insisted that yards-per-carry over a significant amount of time is the best way to evaluate a running back.
"The proof is in the pudding," Tucker bellowed.
That got Joe thinking about Doug Martin. In 2013, Martin averaged a sad 3.6 yards per carry before he was injured in Week 7. He didn't look like superstar Martin of the previous year. Much of that was blamed on the Bucs offensive line, but Bobby Rainey walked off the street and made six starts behind that O-line and averaged 3.9 yards per carry. Mike James averaged 4.9 yards per carry in 60 attempts, with half of them against the eventual Super Bowl champion Seahawks. Heck, backup Brian Leonard had a better 2013 average than Martin through his 47 carries, and a lot of that was short-yardage work.
Last year, Rainey averaged 4.3 yards per carry. With similar work, Martin was at 3.7.
So what's in the "pudding" of the Bucs' backfield?
Joe suspects Tucker would consider Martin's 2012 season to be ancient history and make Rainey his top back out of the gate in training camp. Rainey, 27, also has less mileage on his legs.
Yes, Joe knows Dirk Koetter is a big Martin fan and Martin is the No. 1 guy right now. That's fine. But there's still a healthy debate on who should shoulder the backfield load.