Lovie Talks "15-Plus Sacks" For Gerald McCoy
June 24th, 2015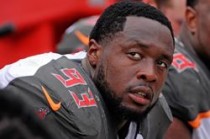 Gerald McCoy doesn't like to talk about his individual goals, but Lovie Smith had no problem spilling the beans.
Lovie chatted with Buccaneers.com and explained that Lavonte David and Gerald McCoy have new heights to reach.
"Gerald had a great year but Gerald will tell you he has high goals, 15-plus sacks," Lovie said. "You know, the great ones that we've had. The great one, Warren Sapp, those were the type of numbers he was talking about. Gerald was looking at those type numbers."
That's a big goal for McCoy. If he manages to hit it, then Joe would envision the Bucs defense would win a few games for the team this season. Sacks are game changers; they always will be.
For the record, Sapp had double-digit sacks three times in his nine Tampa Bay seasons — 10 1/2 sacks in 1997, 12 1/2 in '99 and 16 1/2 sacks in 2000. McCoy's best of his five years was 9 1/2 sacks in 2013.
Lovie also raved about the offseason addition of Henry Melton jacking up what many consider the NFL's best interior pass rush. The Bucs led the NFL in sacks by defensive tackles last year.
Melton is quite an X-factor. If somehow he can regain his Pro Bowl (2012) form, then McCoy should get cleaner shots at quarterbacks.