"Upper Hand?"
June 8th, 2015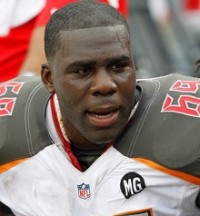 Whether Demar Dotson is staging some sort of contract protest/holdout is unclear. Bucs fans truly will find out when mandatory minicamp starts in eight days.
But the notion that Dotson has a strong case to play hardball with the Bucs has Joe laughing hysterically.
Pat Yasinskas, ESPN Bucs beat blogger, penned a piece today suggesting Dotson has the "upper hand" in a drive for a reworked contract. Dotson is set to earn $2.5 million this year, and just under $2 million plus incentives in 2016.
Dotson is the constant on the NFL's worst performing offensive line over the past two seasons. He's an almost average right tackle who turns 30 in October. That's not the resumé to demand a new deal. Joe thinks $2.5 million is a fair piece of change for a guy like Dotson.
What's Dotson going to do? Pass up a paycheck and paint himself as a malcontent for the rest of the league?
Joe likes Dotson and isn't railing against the guy. Dotson may not even be "holding out," as some have suggested. But Joe has to be real. The Bucs should feel no pressure to make a new deal with Dotson, not this offseason.