The NFC South $20 Million Club
June 3rd, 2015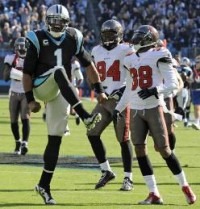 There's a reason Joe screamed from rooftops for the Buccaneers to draft Johnny Manziel or Teddy Bridgewater last year.
There's a reason Joe demanded the Bucs draft Jameis Winston, beginning with Joe's daily Jameis Watch that started in early November.
The logic was simple: Drew Brees, Matt Ryan and Cam Newton are three durable star quarterbacks who have all been to an NFC title game. And (all together now) you can't compete for anything meaningful with the fourth-best QB in the division.
Yesterday, the Panthers locked up Newton for years with a stunning new contract. Brees, Ryan and Newton all earn more than $20 million per year.
Thankfully, the Bucs have America's Quarterback, Jameis, who at least has the talent and instincts to compete with his division counterparts, assuming he can develop.
Salary cap nuts among Bucs fans will be quick to rejoice Newton's monster contract. Jameis comes very cheap compared to his NFC South counterparts for at least four seasons. That means the Bucs would have the cash to keep around the young talent from last year's draft, assuming they actually panned out.