"The Biggest Kid On The Field"
June 26th, 2015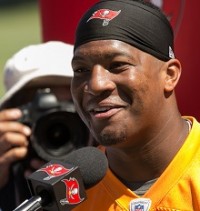 Sadly, there are still too many who believe Jameis Winston is a felonious animal and a menace to society.
The NFL disagrees, and it had Jameis play with and coach young children this afternoon in Ohio.
It's all part of the NFL Rookie Symposium. Taking a break from learning about what not to do as an NFL citizen, Jameis and fellow rookies worked with kids at an event promoting youth fitness.
The eyes of the Associated Press were watching and typing. They judged Jameis to be highly engaged and helpful.
Winston and the NFC's other drafted rookies got a break from their four-day symposium to play football with school-aged children on Friday. The 21-year-old Winston was the biggest kid on the field, encouraging the youngsters and giving them tips on how to throw.
It's really stunning the potential Jameis has to be a positive force in the Tampa Bay community. He's the right personality to be a face of a franchise. Now he has to play well enough to stick around, get past his lingering legal mess, and follow the leads of fellow Florida State/Bucs alumni: Derrick Brooks and Warrick Dunn.