Ali Marpet: Jameis Is "Struggling Through The Playbook"
June 26th, 2015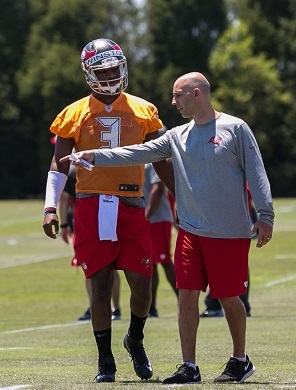 Joe's learned in life that verbs are very important, like if a woman says she likes you. That can have a lot of meanings.
Enter Bucs rookie guard Ali Marpet, the pride of Division III Hobart College, and one of the two savior second-round picks pegged to repair the Tampa Bay offensive line. Marpet jumped on SiriusXM NFL Radio last night and talked about his rookie experience. (Of course, Joe was listening. Joe's not one of these fancy media outfits that claims to cover the Bucs but hibernates in the summer.)
Marpet talked a bit about Jameis Winston, America's Quarterback, and said, "He's struggling through the playbook" with Marpet and other rookies.
It was a telling verb — struggle — a painful reminder of what rookie QBs usually look like, especially with rookie offensive linemen under a new coordinator.
No surprise on the "struggle" for Jameis, but it represents a contrast to the picture painted by Lovie Smith and others on Jameis' development.