Interview Prowess
June 29th, 2015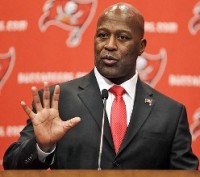 Those like Joe who have worked in the real business world (and Joe's not talking about the twisted, ego-driven world of media) know there's always "Interview Guy" running around the office.
Interview Guy is the dude or broad that wildly wowed management during interviews and then is totally clueless on the job. It usually takes a good 10 months to dump Interview Guy because the bosses can't see what's right in front of them, blinded by hope.
Joe immediately thought of Interview Guy listening to Jeff Cameron talk about Jameis Winston, America's Quarterback, and other Jimbo Fisher products like E.J. Manuel and Christian Ponder. Cameron is the fine sports radio host on 97.9 ESPN Radio in Tallahassee, and a guy very close to Florida State University types.
Cameron was interviewed on sports radio in Fort Myers and talked about what's consistent about Fisher quarterbacks: they absolutely wow NFL suits in interviews. They've been so well schooled in Xs and Os in a pro-style offense that they stand out.
But is it too much? Manuel should have been a second-round pick instead a first-rounder back in 2013, and Ponder was overvalued, as well.
Jameis was the April king of the infamous whiteboard.
Joe's not concerned about Jameis. But the skepticism out there surrounding Jameis' future, as it relates to the careers of Ponder and Manuel, might be the only legitimate argument circulating.