Lovie Calls Mike Glennon "Backup Quarterback"
June 16th, 2015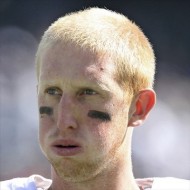 Joe sincerely hopes the following quiets the resurgent Mike Glennon Mob.
After practice this afternoon, Lovie Smith was peppered with questions about why Glennon worked with the first-team offense — again — instead of Jameis.
Lovie made it clear that there is not some sort of quarterback competition going on. In fact, Lovie referred to how he needs to get "a backup quarterback," prepared for duty.
No, Mobsters, and those who think there's some sort of open competition. Jameis is the guy, rightfully so.