Lavonte David Dips To 56th In NFL Network Top-100
June 3rd, 2015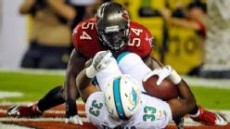 Bucs super stud linebacker Lavonte David can't make a Pro Bowl, but his peers keep on honoring him.
Only players vote to rank each other for the popular NFL Network "Top-100" series. David was revealed tonight as the 56th best of 2015.
Unfortunately, that's a drop for him after vaulting to 35th last year, his debut on charts.
The fall is no surprise. David thrived and set records in Greg Schiano's blitz-happy system, but David made relatively few impact plays in Lovie Smith's system.
At 25 years old, David's best years are ahead of him, and Joe can't wait to see the impact he might have in Year 2 of the Lovie regime. It also would be nice if Lovie and Leslie Frazier got a bit more creative to maximize David's immense speed and talent.