Jameis Winston Is Buried In "Volume"
June 23rd, 2015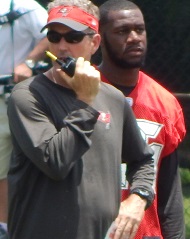 Offensive coordinator Dirk Koetter thought about slowing down the learning process for 21-year-old Jameis Winston, "America's Quarterback."
But then Koetter realized he was better off dumping a supreme challenge on the mind of his young prodigy.
Alex Marvez of FOX Sports has penned a long football look at the making of Jameis the Buccaneer. It's excellent stuff.
Here's an excerpt:
"We said we could probably slow down a little bit and give Jameis more immediate success right now in practice," Koetter said. "But look, we're not game-planning for our defense or the Tennessee Titans (in Week 1). We're learning a system.

"We're going to have a huge amount of volume in right now, way more than we would ever have in one game. We have enough stuff right now for 10 game plans. We're putting in stuff we're going to use over the course of a whole season. It will all get shrunk down and Jameis will have input on that. We purposely made a decision that we're going to throw a huge book at him and see what sticks."

To help accelerate the learning process, Koetter had the entire offense spend the offseason studying video of the 2014 Bucs as well as the work he did with the Atlanta Falcons. Winston smiled while saying he's watched "a lot" of Falcons quarterback Matt Ryan.

"He's great," Winston said. "Coach Koetter made him better. It's how he goes through his progressions. He makes a lot of explosive plays. But at the end of the day, he takes that (easy) completion and keeps the chain moving."

That's one of the lessons Koetter hoped Winston would learn when dissecting Ryan.

"It's the reads, the timing, the footwork, the eye progression that you have to have to play in the type of offense we're running," said Koetter, who helped tutor Ryan to the best three seasons of his NFL career (2012 to 2014). "A lot of young guys don't know how to look off (defenders), don't know how to put their eyes."
There's plenty more via the link above, including a glimpse into Jameis' work ethic and Koetter's take on the mind of Jameis compared to Mike Glennon's.
It's no surprise that the Bucs are burying Jameis in his playbook and intense study. There's no reason to take things slowly or worry about Jameis' ability to handle the position intellectually.
Glennon left college with a Master's degree after just five years and is in his third pro offense in three years, after being a pro-style QB in college. There's no doubt he can set a high classroom standard for Jameis.
Does any of this translate into wins? No. But it should help Bucs fans sleep on these long summer nights.