Jameis Winston Gains Seven Pounds, Wants To Lose Them
June 26th, 2015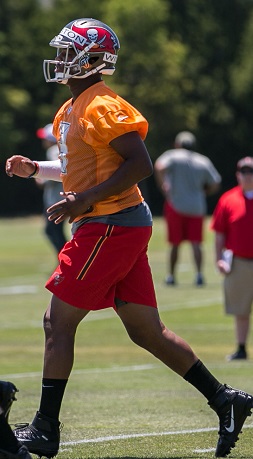 Joe's idea of watching what he eats involves smiling and gazing at plates of french fries. So Joe's not casting stones at America's Quarterback, Jameis Winston.
But it is interesting to note that Jameis, who has been accused of having weight problems in the past, has gained seven pounds since weighing in at the NFL Scouting Combine four months ago.
Jameis now weighs 238 pounds, so he told NFL.com today. That's no big deal, but it is significant since Jameis also told the league website he wants to lose the weight.
Now released from duties at One Buc Palace for another month, Jameis is on his own when it comes to eating and exercising. After the NFL Draft through spring practices, Jameis was supervised and fed by the Bucs' team of nutritionists, though they don't follow him around town to keep Tampa's finest and greasiest food off his plate.
Hopefully, Jameis is able to manage his intake.
Joe is not worried, regardless. Jameis was an extraordinary college QB weighing much more than he does now while dealing with a bad ankle. In 2010, former franchise quarterback leaky, sleepy Josh Freeman terrorized NFL defenses with all kinds of extra fat on his young, 6-5 frame.
Good luck, Jameis. Joe is making a Five Guys run in your honor.