Jameis' Image Is Improving
June 22nd, 2015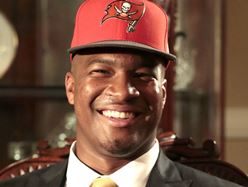 Joe doesn't know why, but the haters and plain ignorant couldn't help themselves. Whenever these folks ragged on "America's Quarterback," the Bucs' soon-to-be signal-caller, the sloth of the world would refer to Jameis as "JaMarcus Russell."
Never mind Jameis had absolutely no remote connection or comparison to Russell other than he had the same offensive coordinator. Russell smoked (legal in 50 states) cigarettes, drank like a fish, was lazy, and was a con artist to Al Davis.
Mention JaMarcus Russell and Jameis in the same sentence to a Bucs executive, and you will suddenly hear a flow of four-letter words, the type of words you wouldn't dare whisper in church.
The only real connection between Jameis and Russell is both are black. Oh, and right-handed. Why not compare Jameis to, say, Ryan Leaf or Blaine Gabbert? Joe guesses it's because they are white. Comparing Jameis to Russell was also lazy, not only ignorant.
However, it appears Jameis' image is improving. Today in a "Monday Morning Quarterback" penned by Robert Klemko on theMMQB.com, the quote about Jameis looking forward to playing J.J. Watt was used. However, it was originally not attributed to Jameis. Rather, the quote was attributed to another black quarterback, Cam Newton.
Well, at least Jameis is climbing the ladder. Now folks are mistaking him for a decent NFL quarterback, instead of an unemployed slug.
Of course, theMMQB editors/Klemko quickly corrected the attribution, but not before Joe grabbed a screenshot.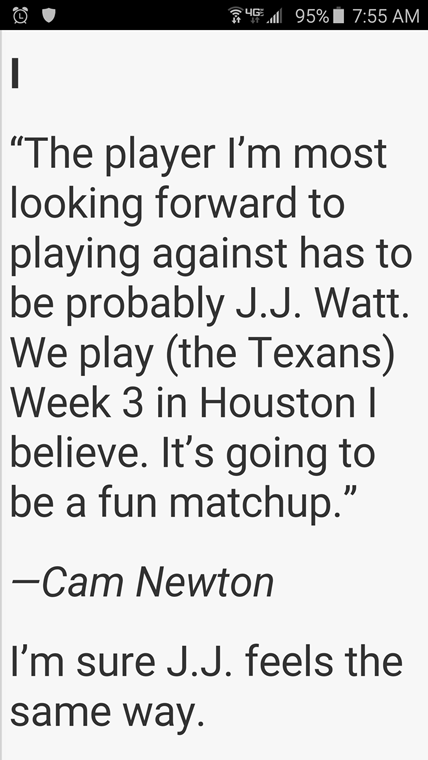 Joe suspects this could be worse. At least Jameis is now mistaken for a guy who has led his team to the playoffs the past two years.