"And That Sucks"
June 16th, 2015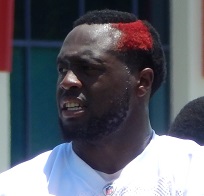 The Bucs' face of the franchise, Gerald McCoy, continues to share his theme of 2015.
McCoy was hammering social media in the winter, claiming he was sick and tired of losing and he only wants guys around him that feel the same way. This weekend, McCoy said he should be a winner.
Yesterday, McCoy was back in Tampa and talking to Buccaneers.com. No 93 lamented the Bucs' lasting-pretender status and claimed individual accolades are just footnotes on the big picture.
"My team has never been to the playoffs, and that sucks," McCoy said.
Joe loves McCoy's attitude. The guy has even doubled up on his relentless personal workouts this offseason.
Joe just hopes McCoy doesn't get hurt celebrating if the Bucs win their first home game, a place they haven't won since 2013.